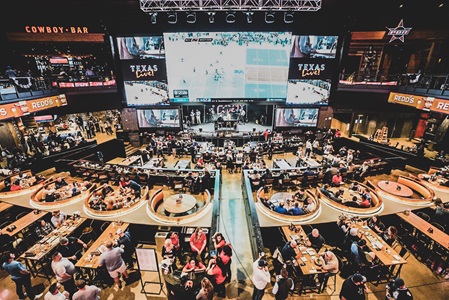 Sports Watch
Experience
The Capital of Sports Viewing
We're Raising the Sports Bar at Texas Live!

WHY SPORTS WATCH WITH US?
Texas Live! offers the ultimate sports watching experience. We have something for everyone, The family, the die-hard sports fan, or just a day out of the house.

- Expansive outdoor seating options
- The BIGGEST screen outside the stadium
- Unique Games and Contests all day for great prizes
- Rewarding the Super Fans all day
- Bringing game day stadium rituals to life
- Ice COLD beer
- Backyard games and fun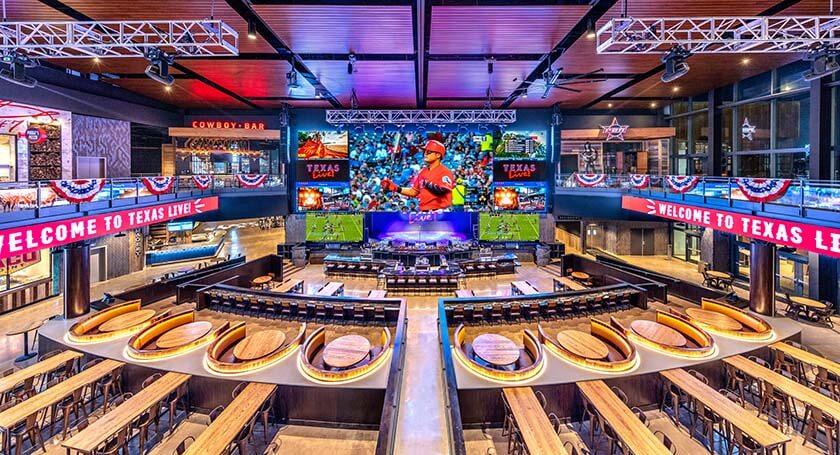 PREMIUM RESERVED SEATING
Want a reserved table for you and your crew? We got you covered. To reserve your table in advance, please email info@texas-live.com



PARKING INFO
Free parking available in Lot B and C, unless event at Globe Life Park, Globe Life Field, or AT&T stadiums. Please no tailgating.  
$810M phase of Texas Rangers sports, entertainment district construction approved by Arlington council

The Arlington, Texas, city council voted to continue its partnership with the MLB's Texas Rangers, Loews Hotels & Co, a wholly owned subsidiary of Loews Corp., and The Cordish Cos., and is moving forward with an $810 million expansion of Arlington's Entertainment District.  

Arlington Approves $550 Million Hotel, Convention Center Project

The Arlington City Council approved a $550 million project to add a hotel, convention center and parking facility to the city's Entertainment District.

First Look: Office Space atop Globe Life Park, convention center and more (Renderings)

The City of Arlington approved a TIRZ package on Tuesday for a massive $810 million second phase of Texas Live!, and its development team is sharing renderings of what to expect from the addition.