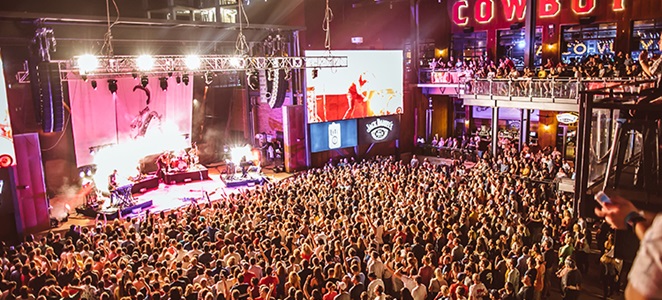 10 Best Things to do in Dallas This Weekend
Dallas weekends are packed full of events, but how many of them are truly worthy of your time? PaperCity's new events calendar offers a curated look at all of the best things to do in the area. But everyone can still use an expert.

PaperCity's Weekend Expert Megan Ziots culls our calendar for your must dos in this new weekly series.

Early Fourth of July
Get a jump start on your fourth of July with the Independence Day Celebration at Klyde Warren Park on Saturday, June 29. From 4 pm to 10 pm, there will be tunes by the U.S. Army's 36th Infantry Division Band, ice cream, a grand fireworks display on the park's east lawn. The free event also includes a dozen vendors, contests, games, and other family friendly activities.

Go to the full PaperCity events calendar listing.

Or, if you live further up north or want to take the 30 minute journey, the annual Allen USA Celebration is at the same time on June 29. NBC's The Voice former contestants Hannah Kirby and Taylor Phelan will be performing early in the evening. And then at 8:30 pm, the Georgia Bridgwater Orchestra will perform Top 40 hits and more. The event is free and ends with a grand fireworks finale at 10:05 pm.

There are also several event zones, including a food zone, kid zone, pop-up performances, car show, sports zone, military zone, ninja challenge and much more.

Go to a Fest
On Thursday, June 27 through Sunday, June 30, The African Film Festival is taking place in South Dallas. Screenings are at the Pan African Connection on Thursday and Friday and the African American Museum on Saturday. The Red Carpet event will be at the Dallas City Performance Hall on Sunday. Films include Leading Lady, State of Mind, and Africa Tells from Andorra. Here's the full list.

This Saturday, June 29, Texas Live! is hosting the World of Art Festival at Arlington Backyard. The fest brings together all forms of art and culture from around the world in a one night event of discovery. For $25 per person, you'll receive a passport to experience art, performances, and presentations from local artists. The event is for all ages and also includes fashion shows, photography, live music, and food & drinks.

Catch a Concert
American rapper Jon Bellion is coming to Toyota Music Factory this Friday, June 28 at 7 pm. His Glory Sound Prep Tour will be joined by Marc E. Bassy and Lawrence. After getting his start with a series of mixtapes with original songs, Bellion built a following by sharing his music directly with audiences, giving away more than 200,000 free downloads of his 2014 album The Definition.

He's co-written and co-produced with artists such as Jason Derulo, Eminem, and Christina Aguilera. This year, he's going on on another solo tour, highlighting his most recent album, Glory Sound Prep.

Also, on Friday evening, country star Thomas Rhett is performing at Dos Equis Pavilion in Fair Park on his Very Hot Summer Tour. He's bringing along Dustin Lynch, Russell Dickerson and his father, Rhett Akins. His most recent hit, "Look What God Gave Her," earned the No. 1 spot on country radio this week.

Pop By These Pop-Ups
The Public Trust, an art gallery in the Design District, is celebrating its 15th Anniversary with a one-night only pop-up event on Saturday, June 29. The Art Prostitute pop-up will celebrate the opening of 15 Years: The Public Trust Anniversary Exhibition. On display, there will be 30 offset prints produced by the Art Prostitute publication and their issues.

There will also be copies that are on sale for the first time in 12 years, including the issue 02 signed by Shepard Fairey and a limited number of the OBEY Art Prostitute boxed edition.

Presented by Mercury One, 12 Scores & 3 Years Ago: The Unfinished Promise of Unity is an immersive pop-up museum taking place on June 29 through 30 and July 4 through 7 at Mercury Studios in Irving. The museum explores slavery and abolition and celebrates the lives of black heroes and innovators in the U.S. There will be over 100 artifacts, photos, and historical documents at the exhibit. Tickets are available here.

Party For a Cause
On Saturday, June 29, Deep Ellum Distillery and BvB Dallas are hosting a beer and charity block party. BvB Dallas raises money for Alzheimer's research in Texas and $25 per person ticket proceeds go toward the cause. The block party will have games, music, food trucks and cocktails. Beer will also be provided by Deep Ellum Brewery. The party is from noon to 4 pm.

Cookies & Cocktails
This one is pretty self explanatory. From 8 pm to 10 pm on Friday, June 28, Kessler Baking Studio is hosting Cookies & Cocktails at the studio. For $45, you'll receive sweet treats paired with professionally crafted cocktails from Potent Pours. The first pairing will be a blueberry lemon cake with Potent's French 75. The second will be the blackberry cinnamon roll with the cocktail TBA. There will also be a chance to learn more about fine cigars from Definition Cigars. Early bird ticket sales are $10 off ($35) and can purchased before June 27 at 8 pm.
View article online HERE.