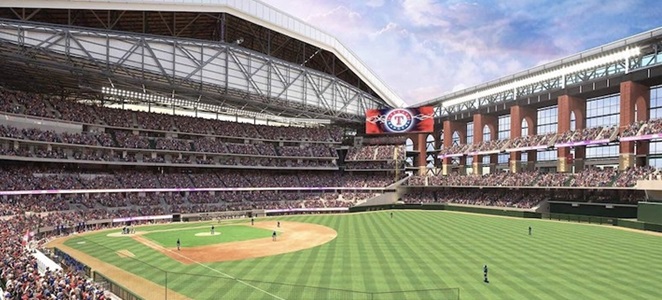 Texas Rangers' Globe Life Field progresses toward its 2020 completion date
The stadium will be the cornerstone of the Texas Live! Development.
Globe Life Field, the Texas Rangers currently-under-construction ballpark, is progressing towards its March 2020 completion date. The ballpark is designed by HKS architects with VLK Architects acting as the associate architect. The stadium is the cornerstone of Texas Live!, a dining, entertainment, and luxury hospitality complex that has been under construction since 2016.
One of the biggest functional changes Globe Life Field will provide compared to the Rangers' current home ballpark is the new retractable roof that will keep players out of the Texas heat. Another large change will be the synthetic playing surface from Shaw Sports Turf. The synthetic grass will provide similar aesthetics to natural grass and will be combined with natural clay basepaths.
The $1.1 billion, 1.7 million-sf stadium will be built on a 13-acre site and have a capacity of 40,000. It will have five entry gates to ease crowd congestion upon entering and exiting the stadium. When complete, Globe Life Field will feature 725 concrete columns throughout and 780 piers drilled into the ground that make up the building foundation.
A series of experiences for fans will include clubs, themed restaurants, retail, and a Hall of Fame exhibit. Globe Life Park will be the MLB's first new ballpark since the Atlanta Braves Opened SunTrust Park in 2017. Manhattan Construction Company is the general contractor. Walter P Moore is the structural engineer.
View article online
here
.