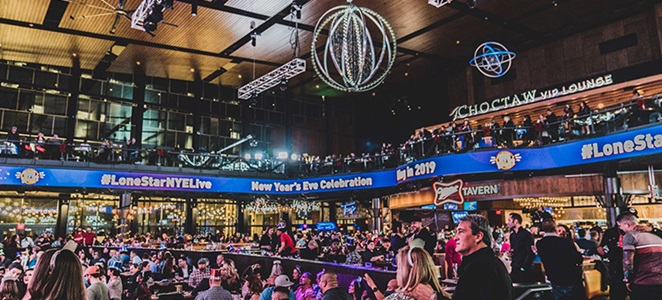 D-FW's newest New Year's Eve party plans free fireworks for up to 10,000 people
With the continued absence of a large-scale New Year's Eve party in Dallas, a new venue in Arlington wants to offer a place to ring in the new year for at least 10,000 people.

Lonestar NYE Live is a Dec. 31 event at Texas Live, the new restaurant and bar complex built between the Texas' Rangers current stadium, Globe Life Park, and the Dallas Cowboys' home turf, AT&T Stadium.

"It's going to be the biggest party in D-FW," says Jim Watry, chief operating officer for Texas Live. The company that developed Texas Live has similar venues in more than a half-dozen cities, and Watry notes that "we sell thousands of tickets to events on New Year's Eve every year."

Texas Live execs also saw an opportunity — since Big N NYE is still on hiatus and Texas Live just opened — to start a NYE tradition between Fort Worth and Dallas.

For revelers looking for a free block party, Texas Live is hosting fireworks at midnight. The four-acre Texas Rangers Plaza, which Watry describes as the eventual "front door" to the new baseball stadium, can accommodate thousands of people, he says. Drinks (both alcoholic and not) will be served on the plaza.

Attendees who want to go inside Texas Live can pay $25 for general admission tickets at the door, or $90 to $300 per person in advance to reserve spaces inside the two-story venue and enjoy drinks and dinner. Texas Live has restaurants and bars in every corner, including a taco spot from Food Network chef Guy Fieri; a pizza joint from baseball player Ivan "Pudge" Rodriguez and an American restaurant from NFL quarterback Troy Aikman. (And no promises on NYE, but spokesperson Autumn Reo says Aikman has been occasionally spotted inside his restaurant.)

The TV screens inside Texas Live measure 100 feet from corner to corner. On New Year's Eve, customers inside the venue will not have to imagine watching the ball drop on that big TV, though, because Texas Live staffers will drop their own ball that's 15 feet in diameter. (That's larger than the ball in New York City's Times Square, which measures 12 feet in diameter. Everything really is bigger in Texas?)

Information was not yet available about the DJs and other performances at Lonestar NYE Live; check back here for updates.

But we do know this important tidbit: Parking in surface lots around Texas Live will be free.

Update on Dec. 5, 2018: Drinks were originally not going to be available outside, but the event organizers have changed that plan. This story has been updated to say that drinks will be available outside on New Year's Eve.
View article online here.