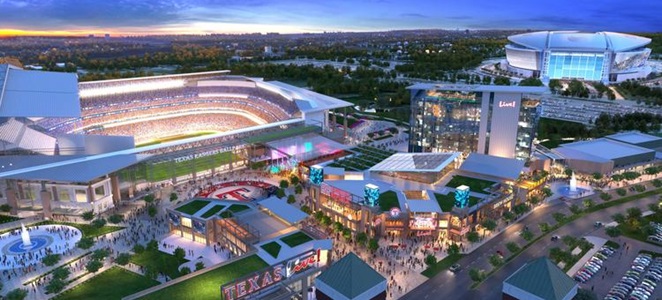 Construction Progressing on New Globe Life Field, Texas Live! Complex
If you haven't taken a drive through Arlington's Entertainment District in a while, you may find that the landscape looks quite different as crews continue to make progress on the new Globe Life Field and Texas Live! complex.

The $1.1 billion, retractable roof stadium is beginning to take shape. A section of the lower seating bowl, stretching from home plate out to right field, now stands on the site, which for months was essentially a large hole in the ground.

"When you look at the renderings, you can point to what the finished product will look like and now you can point across the street and see where you are in the construction process," said Rob Matwick, Executive Vice President of Business Operations for the Texas Rangers. "The feedback has been great. The fans are excited. Certainly a few more of these hundred degree days and I know everybody will be looking forward to that air conditioning."

Globe Life Field is scheduled to open at the start of the 2020 baseball season.

The Texas Live! complex, meanwhile, is slated to open in a matter of weeks.

Crews have now begun installing exterior signs for the various restaurants that will be calling the building home. They've also started on an interactive fountain that will sit on the plaza between Texas Live! and Globe Life Field — and will soon install large video screens on the ornate, illuminated poles that sit just outside the building.

"It's fascinating to see how quickly things are moving," said Matwick. "You look at the project one day, and if you miss a day or two and come back and take a look at it again, it's changed completely."

Most of the work left to be done is on the interior of the building.

The Rangers and Cordish Companies, which will manage the property, have announced nearly a dozen restaurants and bars that will await fans inside.

They include "Troy's," a burger concept by Cowboys great Troy Aikman, as well as "Pudge's Pizza," which is a pizza joint owned by Texas Rangers Hall of Famer Pudge Rodriguez.

Matwick said it's full steam ahead to meet the Aug. 9 grand opening date.

"There's no doubt there's work to be done and I'm sure we'll be working up until the last hour on August 8 and maybe up til noon on August 9 to get it done," said Matwick. "But construction has a fascinating way of falling into line and getting to the finish line. We need to hope that we continue having good weather so we can stay on schedule, but we're gonna meet that schedule and we're looking forward to our grand opening."

Texas Live! will also function as a live music venue. Several concerts have already been lined up for opening weekend, including The Toadies and country artist Kip Moore.

A Loews Hotel is also under construction next to Texas Live! That is expected to be complete in 2019.
View article online here.