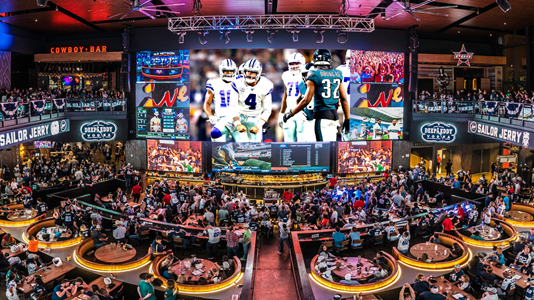 THE ACTION
STARTS HERE
Entertainment Capital of Texas
Plan Your Visit to Texas Live! for the Game
If your team is playing, we'll be watching. Take a look at the various options below before you visit.
Texas Live! offers the ULTIMATE fan experience for all. We love the diehard fans, the fantasy football gurus, the brunch boys, the game day girls, and everyone in-between. Ditch your couch and join the only atmosphere better than the stadium.

TEXAS RANGERS GAMES
Watch the Rangers compete all season long!
We offer Premium Reserved Seating for both home and away games.
To reserve in advance, please email info@texas-live.com
DALLAS FOOTBALL GAMES
The only atmosphere better than the stadium! Premium Reserved Seating is available for both home and away games.
NEW for the 2022 season - the Ultimate Tailgate Experience. Ask how you can book your game day tailgate party now!
Click HERE to purchase your General Admission tickets
Click HERE to book your table in advance
MONDAY NIGHT LIVE! AT TROY'S
Football starts here. Every Monday night!
Join us for the ultimate fan experience featuring Troy Aikman's $8 favorite menu picks, giveaways, and halftime entertainment.
Click HERE to learn more
Click HERE to purchase your tickets
WALK-IN VISIT
Swing by for the big game, but please remember we can't promise you a table in Live! Arena if you don't reserve a table in advance. Make sure to check out any of our other nine venues while you are here!


$810M phase of Texas Rangers sports, entertainment district construction approved by Arlington council

The Arlington, Texas, city council voted to continue its partnership with the MLB's Texas Rangers, Loews Hotels & Co, a wholly owned subsidiary of Loews Corp., and The Cordish Cos., and is moving forward with an $810 million expansion of Arlington's Entertainment District.

Arlington Approves $550 Million Hotel, Convention Center Project

The Arlington City Council approved a $550 million project to add a hotel, convention center and parking facility to the city's Entertainment District.

First Look: Office Space atop Globe Life Park, convention center and more (Renderings)

The City of Arlington approved a TIRZ package on Tuesday for a massive $810 million second phase of Texas Live!, and its development team is sharing renderings of what to expect from the addition.