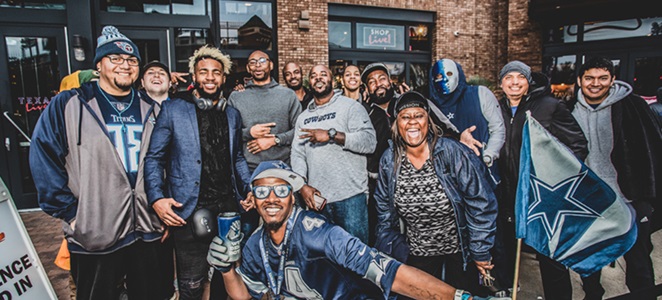 Cowboys Fans Start a New Tradition with Thanksgiving at Texas Live!
The Cowboys pulled off a huge 31-23 victory against Washington Thanksgiving night, bringing Dallas to a three-game winning streak to grab a share of 1st place in the division.
Just outside AT&T stadium, some Cowboys fans chose to ditch the turkey dinner for a Thanksgiving at Texas live! It was a true celebration and a new way to holiday.
It was a different kind of family table on display at Texas Live and among the folks choosing to spend their holiday in a nontraditional way, NBC 5 found a few groups redefining what family can be.
There's the family you're born with.
"He was awake for the whole game, then he took a nap and now he's just partying it up!" said Yesenia Cortez of her 18-month-old son.
Then there's the family you choose. One group of friends has made the trip from Memphis four years in a row, ditching their traditional family ties for a 'Friendsgiving' with the Cowboys.
"I have seven brothers and five sisters and we all get together on Thanksgiving, but the past four years, I have put them down, literally put them down," Josie Williams joked.
Her friend Kevin Gaines added, "Just something different, very exciting and we enjoy coming every year."
There was even room at their table to root for different teams, with one friend sporting full Redskins gear.
"We just want to come together, have a good time with everybody, enjoy themselves and enjoy life in general," Gaines said.
"I'm thankful for getting to know each one of them and hopefully we get to hang out more and have many more Thanksgivings together," Solis said.
And what better way to break the ice than with a huge Cowboys win! Because when you're celebrating in Cowboys Nation, everyone is family.
Texas Live just opened in August, several fans NBC 5 talked to said they're already planning to spend Thanksgiving there again next year.
View article online here.