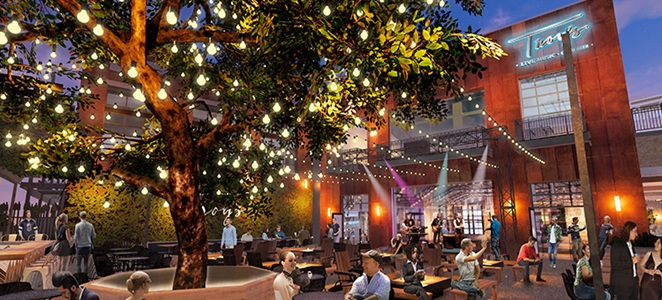 Burgers, beer and live music: What's on tap for Troy Aikman's Texas Live! Eatery
Troy Aikman is getting into the restaurant business.
The Texas Live! lineup is getting a boost from a Hall of Famer.

Cowboys great Troy Aikman will open a restaurant and bar in the entertainment district set to open later this year adjacent to the site of the new Texas Rangers ballpark.

Troy's, as it'll be aptly titled, will serve burgers and healthy options, as well as beers on tap and margaritas. You'll be able to hear live music from an indoor-outdoor stage seven days a week, according to a release from the Texas Rangers.
The 10,000-square-foot space "will flow from a refined rustic interior inspired from some of the best beer halls in Texas and the country to an expansive, lush outdoor patio space centered around a beautiful Live Oak tree," the release said.
An NFL great getting into the restaurant industry is nothing new. Aikman follows in the footsteps of fellow Hall of Famer and Super Bowl winning Denver Bronco John Elway, who opened a steakhouse in Colorado that now has three locations. Hall of Famers Brett Favre and Dan Marino both opened a restaurant after football, and former All-Pro QB Joe Theismann has owned a Virginia eatery since 1975.

Future Hall of Famer Drew Brees co-owns a Cajun restaurant called Walk-On's set to open in Irving later this year.

Troy's joins the likes of Lockhart's Barbecue, Revolver Brewing and a yet-to-be-named spot by restaurateur Guy Fieri in Texas Live! The area will also include retail establishments and a 5,000-square-foot "Arlington Backyard" that will overlook Globe Life Field.

"Every new announcement for Texas Live! is adding something special to the district," Rangers Executive Vice President of Business Operations Rob Matwick said in the release. "Troy's will be an iconic addition and will quickly become a favorite for local residents and out of town guests."

Globe Life Field is slated to open in time for the 2020 season.
View article online here.